Version 3.5 of WagerMate has been released.  It has one major new feature: it uses a new track-to-track variant.
That one improvement gets us more than a 1% point increase in both the Win Rate and the ROI.  Here are the back testing results on my 2009-2013 data, with the default filter: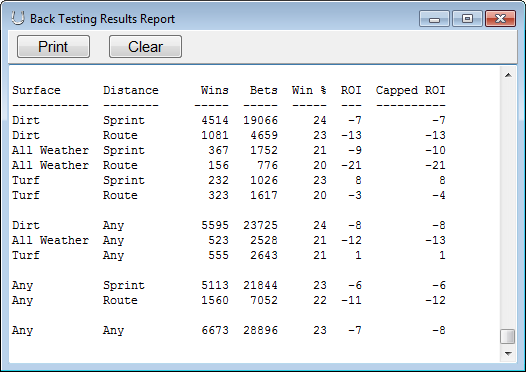 This indicates that if you blindly followed WagerMate's picks you'd lose 7%.  If you only followed the picks for turf races, you'd win 1%.
By now, you should know that's not how I really think you should use the WagerMate results — I want you to combine the WagerMate results with your own handicapping work.  If you use the WagerMate results, instead of starting with an ROI of -20% (due to the takeout), you're starting at -7%, and that's a big difference.
Good luck!